Have you got your flu shot yet?
RNAO President Rhonda Seidman-Carlson receives her flu shot with RN Sandra Ramsey of The Scarborough Hospital. RNAO strongly encourages all nurses and other health-care workers to protect themselves and their patients.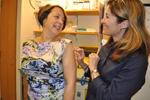 If you haven't got your flu shot already, contact a health professional or find a clinic where you can schedule an appointment.
More flu items:
News Release: Working Together to Increase Immunization. Health Care Workers Urged to Get the Flu Shot
Seasonal Influenza Webinar Opportunities by the Ministry of Health and Long-Term Care