Get your copy of Transforming Nursing Through Knowledge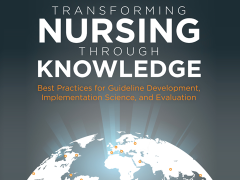 RNAO's book can now be purchased online.
Co-authored by RNAO's CEO Doris Grinspun and former IABPG director Irmajean Bajnok, Transforming Nursing Through Knowledge: Best Practices for Guideline Development, Implementation Science, and Evaluation tells the story of the association's best practice guidelines (BPG) program from its inception in 1998 to the growth and reach the program enjoys today.
The book shows how BPGS are developed, implemented and evaluated. It also provides readers with a behind-the-scenes look at how nurse executives, health-care organizations, and professionals create evidence-based cultures.
RNAO's book is available to purchase at https://www.sigmamarketplace.org/transforming-nursing-through-knowledge.html