Four long-term care homes join BPSO program at launch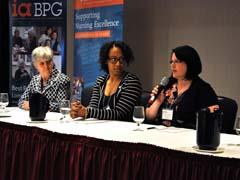 RNAO's brand new Long-Term Care Best Practice Spotlight Organization® (LTC-BPSO) initiative is off to a running start after an energetic launch in April.
Staff members from the first four LTC-BPSOs gathered at the Hyatt Regency in Toronto, along with Minister of Health Deb Matthews, other BPSO representatives, and RNAO staff to officially kick off the program.
"Thank you for embracing this extraordinary journey of quality improvement," Matthews told the group of health-care providers.
Since the inception of the BPSO program in 2003, RNAO has been selecting and supporting health-care and academic organizations to implement and evaluate its best practice guidelines. In late 2013, RNAO developed the LTC-BPSO program and released a request for proposal tailored specifically to the unique needs of long-term care settings.
The four organizations chosen to be part of the first wave of LTC-BPSOs are:
Vision Nursing and Rest Home in Sarnia, Ont.
Parkview Manor Health Care Centre in Chesley, Ont.
St. Peter's Residence at Chedoke in Hamilton, Ont.
Region of Peel, with five homes across the region
More information about the LTC-BPSO initiative is available online.