Expansion of the Best Practice Champions Network workshop series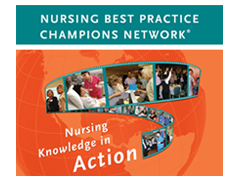 Beginning in the spring of 2014, we will be looking to partner with organizations from across Ontario to act as host sites for RNAO's FREE Best Practice Champions® workshops.
Funded by the Ministry of Health and Long-Term Care, these workshops are offered completely free of charge to all interested participants.
We are seeking organizations who can host a workshop, who are committed to facilitating workshop attendance from their staff and other nurses in the community.
Interested organizations must be able to assist with workshop promotion, booking of workshop space and catering, and providing on-site logistical support.
Workshop Level 1
This workshop introduces participants to RNAO's Best Practice Guidelines and evidence-based practice, along with a model to implement practice change.
Throughout the workshop, participants will learn:
How to conduct a needs assessment and gap analysis in order to identify the practice change to be implemented
Engage stakeholders
Assess their organization's readiness
Develop a plan for implementing Best Practice recommendations in their work setting
Workshop Level 2
This workshop is for those who have already participated in a Best Practice Champions Level 1 Workshop and wish to expand their skills in knowledge transfer.
Advanced Workshops focus on sustaining implementation of Best Practice Guidelines and builds on:
Skills in leadership
Mentorship
Networking
Marketing
Enhancing the Champion role
Download the 2014-2015 Request for Workshop Host Sites document and application form below.
For more information please contact Kyle Dieleman at 1-800-268-7199 x255.