Enhancing Community Care for Ontarians (ECCO) – A Three Year Plan
The report examines high performing systems and concludes that Ontario has structural duplication that leaves taxpayers with less care and hampers the province's capacity to achieve system integration.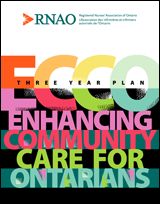 One of the key findings of a report titled, Enhancing Community Care for Ontarians (ECCO) released today hopes to achieve more than four million additional hours of home health care and support services if the Ministry of Health eliminates the costly duplication that currently exists within the province's 14 Community Care Access Centres (CCACs).
The result is fragmented and delayed care for patients and an inefficient system overall.
The report recommends using Community Health Centres, Nurse Practitioner-led clinics, Family Health Teams, Aboriginal Health Access Centres, and other interprofessional and group practices by expanding their reach and roles to provide comprehensive care co-ordination and system navigation to all Ontarians - especially persons with complex health-care needs.
A key element of the ECCO plan is to redeploy the 3,500 CCAC case managers and care co-ordinators – 3,000 RNs and 500 non-RN health-care professionals – to primary care, where their expertise would be better used providing the care co-ordination, system navigation and same day access that Ontarians desperately need.