Do you know an outstanding nurse? Deadline for nominations is March 16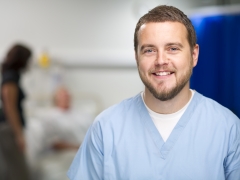 Nursing Week 2017 is fast approaching and the Toronto Star wants to know if an RN or NP has made a difference in your community. To celebrate nurses who have gone above and beyond what is expected, please consider nominating him/her for the 2017 Nightingale Award.
To nominate a nurse, you must fill out a nomination form, which includes providing a 250 to 500 word testimonial about why that individual deserves to be honoured. Your testimonial should include a brief description of his or her qualities, care of patient, specific examples of the nurse's efforts and dedication, and the difference he or she has made to your life or the lives of others.
Deadline for nominations is March 16, 2017 and the winner will be announced in the Star's special Nursing Week section on Saturday, May 6, 2017.
Visit the Star's contest website for more information.