Celebrate Nursing Week in your communities May 12 – 18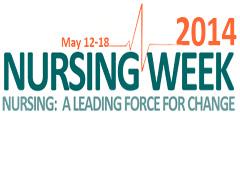 Check your calendars – National Nursing Week is almost here. From May 12 – 18, Canada will honour nurses' immense contributions to the health of our wolrd.
RNAO wants to help your local Nursing Week celebrations reach your entire community. One way to do that is to have Nursing Week officially proclaimed by your town or city. We are providing a handy proclamation template to fill out and pass to your municipal government, in order to get Nursing Week the recognition it deserves. You can easily customize this Nursing Week poster (also available in French) and spread it around your community.
Nursing Week is also a great opportunity to give your local political leaders a first-hand look at registered nurses in action through RNAO's Take Your MPP To Work event. We've got plenty of resources to help you organize with MPPs and health-care organizations, and you can contact Shelley Martel of RNAO's policy department with any questions.
Many local RNAO chapters and interest groups have developed their own unique ways to celebrate the week, including this innovative art competition from our Halton Chapter. If you're interested in starting your own Nursing Week initiative, contact your chapter ENOs, and the communications department at RNAO home office can help you spread the word.
Check out our special National Nursing Week website for full details on all the week's festivities.