Celebrate amazing nurses: deadline for nominations Feb. 6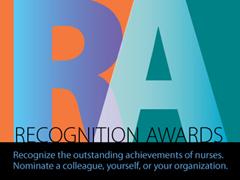 What better honour than to be recognized by your nursing peers at RNAO's 2014 AGM? Give that thrill to a deserving RN by nominating them for an RNAO Recognition Award.
We are closing in on the Feb. 6 at 4:30 p.m. deadline, so make sure you visit www.rnao.ca/awards and nominate your peers.
For more than two decades, the Recognition Awards have honoured RNAO members who go above and beyond, and highlighted the best of nursing practice, education, research, administration and policy. We are currently accepting nominations for the following awards.
Leadership Award in Nursing Administration
Leadership Award in Nursing Education (Academic)
Leadership Award in Nursing Education (Staff Development)
Leadership Award in Nursing Research
Leadership Award in BPG Implementation
RNAO Promotion in a Nursing Program Award
Leadership Award in Student Mentorship
Student of Distinction Award
Lifetime Achievement Award (formerly Honorary Life Member)
Honored Friend of Nursing (formerly Honorary Member)
Award of Merit
RNAO in the Workplace Award
HUB Fellowship
President's Award
If you have any questions, please contact Jody Smith at 416-408-5618 or 1-800-268-7199 x. 220.