Best Practice Champions Network: host a champions workshop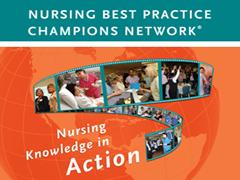 RNAO is looking for health-care organizations and academic institutions to host a Best Practice Champions Orientation Workshop and/or Best Practice Champions Advanced Workshop for the 2014-2015 fiscal year.
Established in 2002, the Best Practice Champions Network® has engaged thousands of nurses and other health-care professionals from across Ontario and hundreds more throughout Canada and the United States. All those who attend the one-day Best Practice Champions Orientation Workshop are considered champions and are eligible to participate in the network.
Following the orientation workshop, champions can access resources and supports including e-bulletins, social networking, teleconferences and webinars, as well as funding opportunities for education and networking.
If your organization is interested in applying to become a Best Practice Spotlight Organization®, this is a great way to start building capacity for best practice guideline implementation.
The Request-for-Workshop Host Sites will be released on Jan. 31, so keep checking our Best Practice Champions page for updates.