Become a voice for nurses: Deadline Dec. 18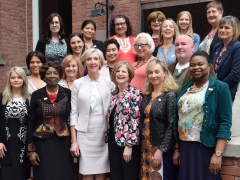 As your professional association, RNAO is committed to speaking out for nursing and speaking out for health. Your talent, expertise and activism are vital to our success.
RNAO is seeking candidates for the following positions on the board of directors for 2018-2020:
-One interest group representative for a one-year term
-One interest group representative for a two-year term
Being a member of RNAO's board of directors is a rewarding and energizing experience. Over the course of your term, you will help to shape the current and future direction of RNAO. You will also act as a professional resource for your constituency.
Please access the nomination form at RNAO.ca to learn more and apply. The deadline is Dec. 18, 2017, at 5 p.m. EST.
If you require further information, please contact Sarah Pendlebury, RNAO board affairs co-ordinator, at spendlebury@RNAO.ca