AGM 2014: Get to know your RNAO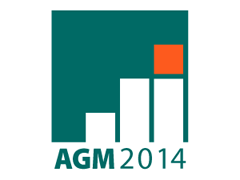 Online registration for RNAO's 2014 Annual General Meeting (AGM), taking place May 1 – 3, 2014 at the Hilton Toronto, is now open.
This year's AGM will feature a keynote address from intensive care unit nurse and bestselling author, Tilda Shalof, known for her books Camp Nurse, A Nurses' Story, and the upcoming Bringing it Home – A Nurse Discovers Healthcare Beyond the Hospital.
All RNAO members are invited to this three-day event, where they'll have a chance to connect with their peers, and hear about the achievements of their professional association over the past year from CEO Doris Grinspun and outgoing president Rhonda Seidman-Carlson. We will also be welcoming RNAO's new president, Vanessa Burkoski.
If you can't make it to the AGM in person, the event will stream live online. Check back with RNAO.ca in the coming weeks for more details.