RNAO Media Awards honour best in nursing and health-care journalism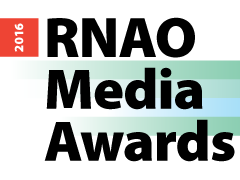 Has a news story about nursing or health care resonated with you this year? Did a piece of journalism reflect your unique experiences as a health-care provider, or give you new insight into an aspect of nursing? Now is your chance to recognize the work of an outstanding reporter by nominating them for an RNAO Media Award.
Our annual Media Awards competition honours nursing and health-care journalism that informs and inspires. Awards are handed out in various categories, including newspaper, radio, television and online. Stories must have been published or broadcast in Ontario during the 2016 calendar year. RNAO members are encouraged to nominate a journalist, but only after contacting them to confirm their willingness to participate. Read the full eligibility requirements and regulations on our website.
Entries must be submitted via our online form by Friday, Jan. 20, 2017. For more information, contact Daniel Punch at 416-408-5606.