Get 400 bonus AIR MILES by using your RNAO Mastercard before Aug. 31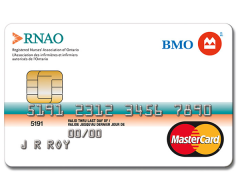 Use your RNAO MasterCard to earn rewards, to show pride in your profession, and to support nursing in Ontario. Apply now, and your first card purchase can get you enough AIR MILES for four movie tickets and popcorn.
The BMO RNAO AIR MILES MasterCard gets you:
More ways to collect AIR MILES reward miles: 1 reward mile for every $20 in purchases every time and everywhere you use your card.3
"Double dipping": earn even more reward miles when you use your card and show your AIR MILES Collector Card at AIR MILES Sponsors.
No annual fee and 19.9% interest rate.4
Applications must be received by Aug. 31, 2014.
Terms and Conditions
Bonus offer is limited to new accounts and will be applied to your Collector Account within forty-five (45) days after your first purchase. Applications must be received between May 1, 2014 and August 31, 2014. Limit of one Bonus offer per Collector Account. If you cancel your card within 30 days of opening your account, the Bonus reward miles will be cancelled. Existing BMO AIR MILES MasterCard customers or those who cancel their card between May 1, 2014 and August 31, 2014 are not eligible. This offer is time limited and may be changed, extended or withdrawn at any time without notice.
All Rewards offered are subject to the Terms and Conditions of the AIR MILES Reward Program, are subject to change and may be withdrawn without notice. To redeem for Travel and/or Merchandise Rewards, you must have accumulated sufficient AIR MILES reward miles in your Dream balance. Some restrictions may apply. Quantities may be limited. Collectors must pay taxes, fuel surcharges and other applicable charges and fees on air, hotel and car rental Rewards. Travel Rewards may be subject to a minimum advance booking and availability from participating Suppliers. No cancellations, exchange or refunds for tickets, certificates or merchandise once booked or ordered. For complete details, visit airmiles.ca or call the AIR MILES Customer Care Centre at 1-888-AIR-MILES (in Toronto 416-226-5171).
Award of AIR MILES reward miles is made for purchases charged to your Account (less refunds and excluding cash advances, cash-like transactions and balance transfers) and is subject to the Terms and Conditions of your BMO MasterCard Cardholder Agreement. The number of reward miles will be rounded down to the nearest whole number. Fractions of reward miles will not be awarded.
Ongoing interest rates, interest-free grace period, annual fees and all other applicable fees are subject to change. See your branch, call the Customer Contact Center at 1-800-263-2263, or visit bmo.com/mastercard for current rates.
®Registered trade-marks of Bank of Montreal.
®*Registered trade-mark of MasterCard International Incorporated.
TM†/®†Trademarks of AIR MILES International Trading B.V. Used under license by LoyaltyOne, Inc. and Bank of Montreal.