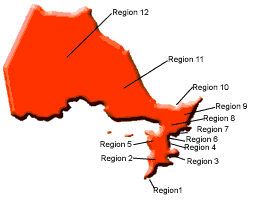 RNAO has a number of chapters/regions without chapters that act as the voice and forum for the nursing
They offer a network of professional resources and support, and maintain the unity of the association while serving the interests of RNAO members.
As chapters/region without chapters of RNAO, the chairperson or president attends the Assembly. This allows group leaders the opportunity to share information and be involved with the Board of Directors.
Region 1

Essex Chapter

Lambton Chapter

Chatham-Kent Chapter

Region 2

Huron Chapter
Perth Chapter

Oxford Chapter

Middlesex Elgin Chapter

Region 3

Brant-Haldimand Norfolk Chapter

Hamilton Chapter

Niagara Chapter

Region 4

Halton Chapter

Peel Chapter

Wellington Chapter

Waterloo Chapter

Region 5

Huronia Chapter

Grey Chapter

Muskoka Chapter

Parry Sound Chapter

Bruce Chapter

South Simcoe Chapter

Region 6

Toronto West Chapter

Region 7

Toronto East Chapter

Region 8

Durham Northumberland Chapter

Quinte Chapter

Kawartha-Victoria Chapter

Region 9

Champlain Chapter

Lanark Leeds Grenville Chapter

Seaway Chapter

Kingston Chapter

Region 10

Ottawa Chapter

Region 11

Algoma Chapter

Porcupine Chapter

Kirkland Lake-Temiskaming Chapter

Nipissing Chapter

Sudbury Chapter

Region 12

Sioux Lookout Chapter

Lakehead Chapter

Kenora Chapter

Rainy River District Chapter